New Education for Contemporary Dance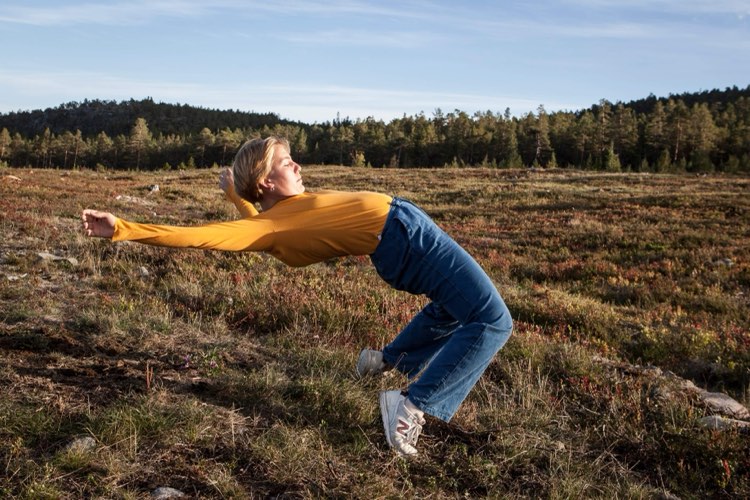 Due to the COVID 19 virus we will hold alternative auditions for the upcoming school year. You will be invited to a video audition and online meetings.
The application for 22/23 is now open!
So don't hesitate to apply! We are looking forward to seeing you.
1-4 year program of training before the next step in dance
Through intensive training and creation periods this dance program focuses on artistry, technique, creativity, sophistication and maturity. The program will have positive effects on a dancer's confidence and abilities so each individual can successfully move forward with their career in the dance field.
Every student will get direct access to performance- and career coaching with Coco Regina, known from TAW (The Audition Workshop).
NEW for the study year 2022/2023!!
In depth focus on the course Dance and Film, taught by the established choreographer Helena Franzén and filmmaker, photographer and scenographer Håkan Jelk. Ongoing course with the camera and editing programs will be led by Mathieu Hebeisen.
Unmissable to the education is the strong connection with ilDance yearly workshops and choreographic projects with Israel Aloni and Lee Brummer as well as the possibility to audition for their young company ilYoung.
The coming study year will start with a circus course on the slack rope, to learn how to accept being off balance and negotiate 'balancing'.
An extremely high rate of previous students continue within dance; they will be found in Artesis(Antwerp), SEAD (Salzburg), Fontys(Tilburg, The Netherlands), Pera(Cyprus), Expanded Contemporary Dance(Amsterdam), London Contemporary Dance School, Artez(Arnhem,The Netherlands), DOCH (Stockholm), Ballet Academy (Stockholm) and Anton Bruckner Privat Universität (Linz).
The education is in english.
The program will give you the best possible conditions for continuing with your career in the dance field.
Today's dancefield needs dancers that are independent artists (dancer/maker):
-Artists that are equipped with tools to support a creative process with a
choreographer (both on a technical and on a creative level).
-Artists that are equipped with tools to create their own works.
-Artists that are equipped with tools to reflect and discuss around the contemporary dance in relation to the arts and to our surrounding world.

In the program you also get help with contacts to higher education in and outside of Sweden.

Contemporary dance
Graham
Ballet
Improvisation
Contact improvisation
Improjam
Composition
African dance
STOMP
Alexander technique
Producing with guest choreographers
Producing own works
Theme blocks: Dance and Film, Gaga,Partner work, Acrobatics,
Physical training: Injury prevention (Pain Free, Safe Floor, Stretch), Strength Training (Horton technique, Cunningham technique), Cardio, Cardio boxing
Theoretical topics: Dance terminology, Dance history, Practical Anatomy, Goal book work, Contemporary Arts Analys
The Teachers' Team consists of Danielle Dietz (Contemporary, Ballet, Improvisation, Composition, Choreographer), Ian Butler (Graham, Contemporary, Contact improvisation, Choreographer and Rehearsal director), Marja Bennet( Alexander technique and practical anatomy) and Linus Gustafsson (boxing), Mathieu Hebeisen (camera course).
Information and application
Length

1-4 years

Tempo

100 %

Student Support Level (CSN)

Higher Education Level/Gymnasienivå

Language

English

Application deadline

2022-06-12
February 4.
Auditions are available the whole year round, so one can audition at any moment through the year.
After the closing date, we have continuous acceptance if there are places left and auditions can be arranged.
Applications are then processed in the order they come in.
Applicants must be over 18 years old by  August 30, 2022. The course is suitable for school leavers, students and dancers aiming to continue their professional development. Applicants must have experience in every day training previously, to be able to fulfill the classes both physically and mentally.
The auditions this year will have the first 2 rounds online.
Both rounds consist of an online task and interview.
If the situation around the pandemic allows us to, we will organise a final round meeting physically in Härnösand.
This is still preliminary and will be decided at a later date.
Basic fee SEK 500 (SEK 300 for distance course) is paid in connection with confirmation of the offered study place. There are course-specific costs for, for example, books and study visits / trips. The basic fee is non-refundable.
More information is provided in the welcome letter.
Both the education and the audition are free of cost.
Click here for instructions in English on how to create an account to apply for New Education for Contemporary Dance.
Danielle Dietz
+ 46 70-55040 94
danielle.dietz@hfs.se
Application 22/23