Musiklinjen Kapellsberg
Folk music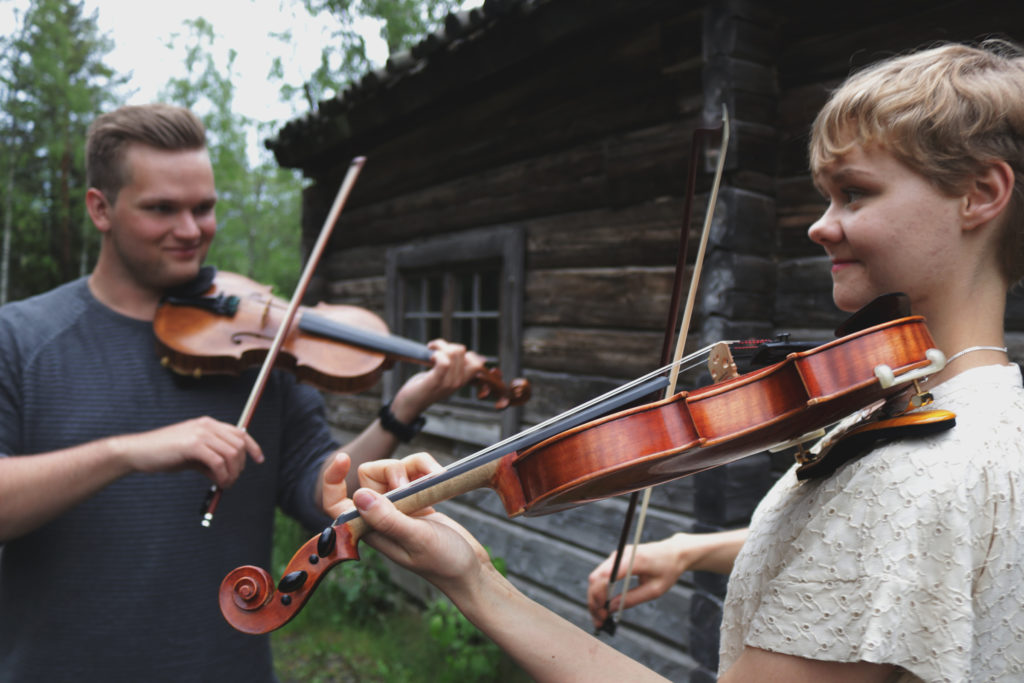 As a student, you get great development opportunities through generous individual lessons and many pure folk music topics.
Here is a unique opportunity to study for five of the absolute foremost Swedish folk musicians on their respective instruments; Emma Ahlberg Ek – fiddle, Ulrika Bodén – vocals/flute, Daniel Ek – guitar/strings, Emma Härdelin – vocals/fiddle and Niklas Roswall – nyckelharpa. If you play another instrument and want to apply, contact us, there is a wide range of skills in Härnösand/Sundsvall, including the Nordic Chamber Orchestra.
Folk music teachers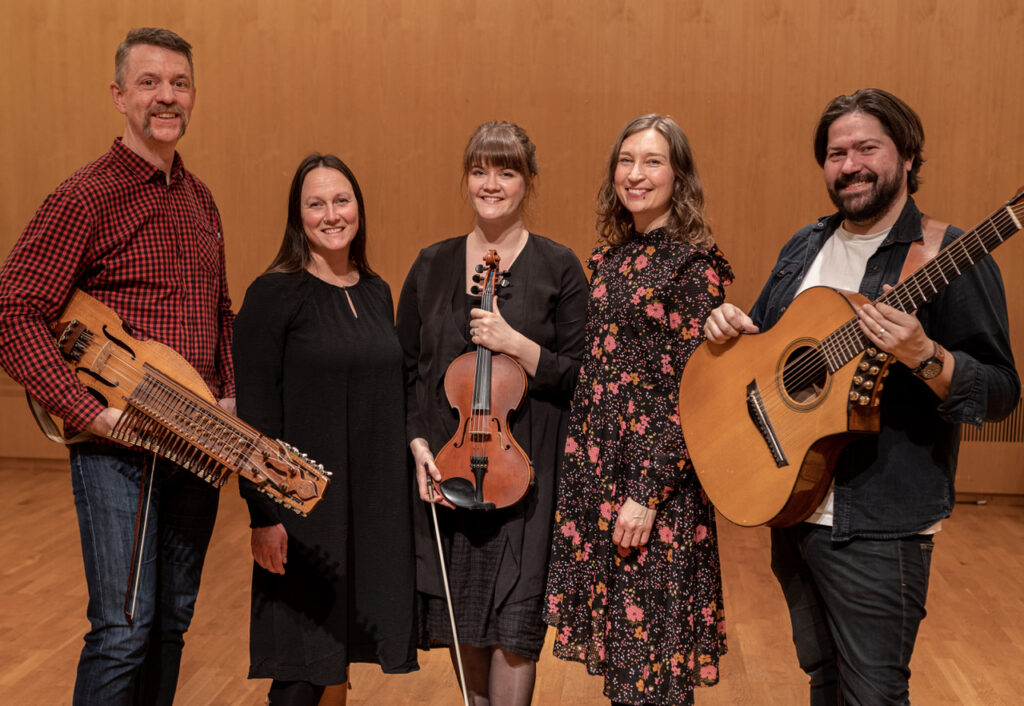 Daniel Ek – guitar/strings
You advance your abilities to play Swedish folk music for guitar or string instrument in individual lessons with accompaniment, harmonization, technique, with playing tunes and playing in different voices. Your teacher is Daniel Ek. He is a musician, a teacher, and he is known from groups like Ranarim, Sofia Karlsson Band, and Ahlberg, Ek & Roswall.
Emma Ahlberg Ek – fiddle
You learn how to play fiddle in Swedish folk music tradition in different styles, working with ornamentation, bowing techniques, double stops and more. Your teacher is Emma Ahlberg Ek. She is a riksspelman for Medelpad tunes and an award-winning musician known from groups like Ahlberg, Ek & Roswall, Hilleviensemblen and Folk All-in Band.
Emma Härdelin – song, fiddle
Grew up in Kluk in Jämtland and Delsbo in Hälsingland. Born into a folk music family and the Härdelin tradition, Emma started early with singing and violin playing. Emma has studied folk singing for Maria Röjås at Malung Folkhögskola and now belongs to one of our most appreciated folk singers. She has been active and toured around the world in the groups Garmarna and Triakel since the early nineties.
Niklas Roswall – nyckelharpa
You will work with both repertoire and technique, as well as expression. You may also learn to play older types of nyckelharpa. Your teacher is Niklas Roswall, riksspelman and nyckelharpa world champion. He is known from groups like Nyckelharporkestern, Ranarim, Carr & Roswall, Marine & Roswall, Ralsgård & Tullberg kvartett and Ahlberg, Ek & Roswall.
Ulrika Bodén – song/flute
You learn how to use your voice with folk sound and style, learning traditional songs, blue notes, herding calls and lilting. Your teacher is Ulrika Bodén, a versatile musician who with her delicate and powerful voice is among the foremost folk singers in the country, known from Ranarim, solo projects, Sångsystrar and more.
Learning tunes and songs
Individual lessons
Playing in a folk music group
Arranging folk music
Herding music
Folk music history
Seminars about folk music
Archive project
About being a musician
Folk dance
Guest teachers
Leading/working in a group
Classical music theory
Apart from the teachers above, you will also meet guest teachers from the Swedish folk music elite, earlier years: Kajsa "O'tôrgs-Kaisa" Abrahamsson, Jonas Brandin, Per Gudmundsson, Magnus Gustafsson, Anders Norudde, Sara Parkman, Kristine Westt, Thomas Andersson, Markus Falck, Mats Berglund, Mia Marine, Jonas Simonsson, Anders Eriksson, Håkan Olsson and Urban Andersson.
There will be a lot of concerts and dance evenings during the year, both at school and in the area which has both local spelmanslag, folkdanslag and several folk music venues.
Information and application
Length

1 year

Tempo

100 %

Application deadline

2024-06-09
After the closing date, we have continuous acceptance if there are places left.
The application is in Swedish. If you need help with your application or more information, please contact us.
This course will be held in Swedish, so you'll have to be able to understand Swedish to get through the course.
Fall semester 2023:
August 28 – December 15
Spring semester 2024:
January 8 – June 14
Fall semester 2024:
August 26 – December 20
Spring semester 2025:
January 13 – June 13
In your application, you must describe your musical experience and skills as well as which instrument(s) you play. The entrance exams consist of a video. E-mail a personal letter and a link to the video, open to watch for everyone, to niklas.roswall@hfs.se.
The test must contain three different tunes or songs in Swedish folk music style, performed solo. If you play any kind of accompanying instrument, it's fine to use a backing track on one of the numbers. Then we call you and do a short interview about your goals with the education, wishes, previous experiences, etc.
A basic fee of SEK 500 is paid per term and is non-refundable.
There are additional course-specific costs for, for example, course material and study visits/travel. More information is provided in the welcome letter.
You confirm your place by:
Paying a basic fee of SEK 500 through Swish to 123 264 3575 or alternatively via IBAN SE78 8000 0842 0297 4773 8814. NOTE Enter the name of your course!
Accepting the offered study place in SchoolSoft.
Application 24/25